Whether it's about early spring break, or a vacation on beach in summers,
beachwear
is an essential clothing item. Beachwear carries different meanings with it- for some, it's comfort, for others it's style and for yet some others, it's just a garment.
Beachwear- What's It!
Beachwear, when introduced, was intended to be worn while participating in water sports and activities such as swimming, water polo, diving, surfing, water skiing etc.
However, now it has become an important fashion clothing too. It can be skin-tight or loosely fitting garments designed to cover either the whole body or its parts. For women, it can be either a two-piece swimsuit consisting of bra and panty or a one-piece maillot style. Other than swim suit, womens beachwear also include skirts, kaftans, pareos, sarong and wraps. Men's swimsuits can be either a bikini-style brief or the longer and fuller swim trunk. Pareos can also be included in mens beachwear.
Women's Beachwear - Trends 2009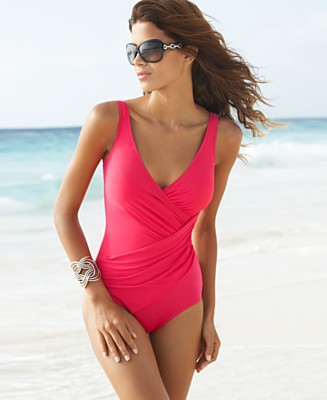 This season beachwear will be seen in period style. The styles that were prevalent in 60's and 70's are making a comeback. They'll be accompanied with oversized sunglasses and cool hats. Swimsuits are an indispensable part of beachwear. One-piece swim-suits in bold prints will be the in thing this summer. The cover-ups like sarongs and pareos will be available in lively colors and prints. They can be worn in various styles- hiding or showing skin. Totes with interesting graphics will be loved by the people, for the simple reason that they can carry things to the beach as well as look stylish. Cool flip-flops or beach shoes will complement the beach goers' looks.
Men's Beachwear - Comfort and Style
For men, the classic beachwear is the lifeguard bikini briefs. It has become wider at the sides for a more comfortable fit- neither too tight nor too revealing. The classic board shorts are always loved by men. They can be worn as regular shorts during the day too. This summer, men's beachwear is brightly colored, with prints like tribal safari style and flower prints. A printed t-shirt with a solid bathing suit pant also look good on men at beach. Polo shirts and a stylish hat are also good partners for your shorts. Accessories like a nice fedora hat and cool leather beach sandals will complete your looks for beach time.
So, now when all's known about beachwear for this season, just go through some
beach tips
and be ready for a great vacation on beach!