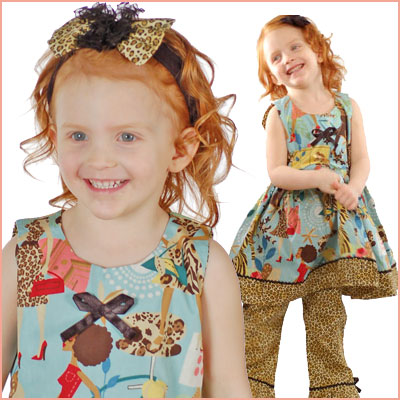 For a considerably long period of time, kids have been subjected to wear mini versions of adult clothing. Clothes, specially designed and patterned for children, the kids clothing, is not a very old development. It only started in the early 1800s but was a big industry by 1900s. Certain developments like those of elastic waistbands that were attached to the kids bottoms like pants and skirts, also triggered the fast development of specific children's clothing.
What is most important in making kids clothing are their patterns and designs. Designs are created around some basic concepts that include comfort, safety, and looks. Comfort is very essential as children are movement prone, they play and move around continuously. If hampered in their activities, they become irritable. Safety is also important. Their skin is very soft and tender, therefore, chemically safe dyes, soft or brushed materials are used for making kids sleepwear and other clothing. Also they are unaware of any hazards like that involved in using drawstrings that can even strangulate them. Kids clothes manufacturers are aware of all these facts and take ultimate precautions by using specialty fabrics like fire & water resistant fabrics etc. and including safe patterns that keeps away from hazardous patterns.

Apart from safety and comfort, other factors are also considered while designing kids garments. For example, kids grow very fast and the clothes are not so fast perishing items. These garments are always passed on to younger siblings. As such, most of the quality garments manufacturers keep such features as extra-long hems and cuffs. For making them durable, seams are also oversewn.
As far as looks are concerned, no other clothing is decorated with trims and accessories as the kids clothings are. Laces, ribbons, appliques, bows, designer buttons & zippers and what not, all are included in the design of kids garments. In fact, pattern making for children's clothing is the most important consideration in the manufacturing of kids clothing